AASP 2023 Conference, July 13-15, 2023, Hong Kong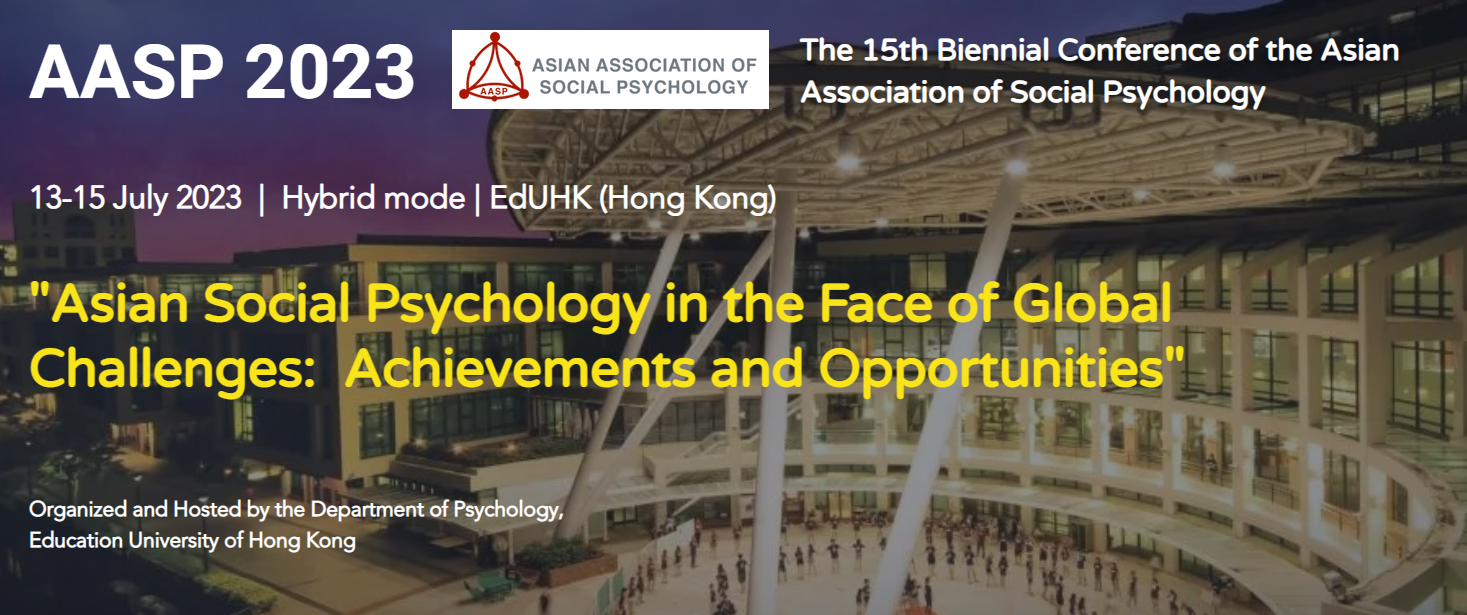 CALL FOR ABSTRACTS
for the 2023 AASP conference! AASP 2023 will be in hybrid mode in Hong Kong from July 13-15, 2023, with the AASP Summer School 2023 preceding. The Department of Psychology at Education University of Hong Kong (EdUHK) is excited to be hosting the conference and invite you all to visit Hong Kong in 2023! Please check the conference website,
https://www.aasp-2023-eduhk.org/
, for more information.
AASP 2021 Conference, July 29-31, 2021, Seoul
The 14th Biennial Conference of the Asian Association of Social Psychology: "Social Psychology of Intergroup Conflict: Towards Peace and Reconciliation in Asia" was held as a virtual conference from July 29 to July 31, 2021. A total of 534 registered participants attended the conference via Whova and Zoom meeting rooms. Conference staffs were located in Sungkyunkwan University in Seoul, Korea, and assisted session chairs and presenters during the rehearsal (July 22 – July 24) and the main conference.
During the conference, 76 parallel sessions including 278 oral presentations and 100 poster presentations were delivered by researchers from 27 countries/regions. Special/Invited sessions included 5 keynote presentations, 8 featured presentations, 30 presentations at the 8 featured symposia sessions, the "Meet the AJSP Editors" session (Host: Dr. Kim-Pong Tam, AJSP Editor-inChief), and the M. H. Bond Award presentation (winner: Dr. Alex English, Research fellow at Zhejiang University).
AASP 2019 Conference, July 11-13, 2019, Taipei
The 13th Conference of AASP was held at Academia Sinica, Taiwan (July 11-13, 2019) on the theme "Consolidating the future of Culture-Oriented Psychology: Progress and achievements". It was a well attended conference with more than 600
delegates from across 20 countries in attendance. The conference was supported financially by the Academia Sinica and Taiwan Ministry of Science and Technology. During the conference about 400 oral presentations were made that included around 70 symposiums and almost 120 posters.